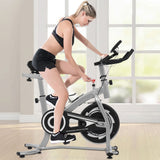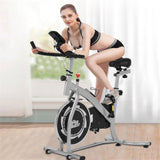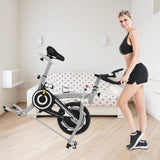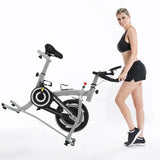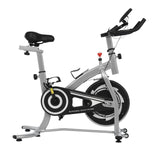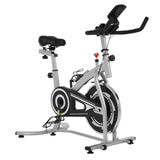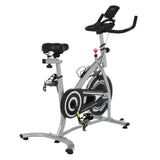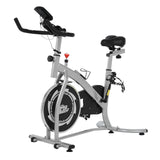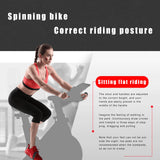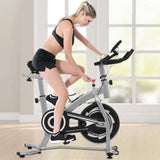 Indoor Aerobic Exercise Equipment With Comfortable Cushion And LCD Display
 Indoor Aerobic Exercise Equipment With Comfortable Cushion And LCD Display
 
Product introduction:
 
[Easy adjustment of tension] The bicycle is within reach, and the exercise intensity can be adjusted according to your own preferences. Rotate clockwise to increase the intensity of the exercise to a new level. And rotate counterclockwise to reduce tension and maintain a soft state. You can also make your exercise stop urgently by simply pressing the knob. The emergency stop function is integrated with the round and smooth resistance knob to make the whole design simpler and cleaner.
 
[Fully adjustable] exercise bike, multi-grip handlebars and ergonomically padded seat, seat and handlebars can be adjusted, so that the exercise bike can be customized and perfect to meet your specific needs . You can place it in a neutral position or a forward leaning position according to your training habits, and you can adjust the seat up and down/backward/forward. It is suitable for families of different heights and weights to use this bike for aerobic exercise training!
 
[Sturdy steel frame] Provides the stability and durability of a fixed bicycle! This is a resistance band exercise bike with a sturdy steel frame that can support the rider's weight of 265 pounds. You can definitely count on it to help you lose weight and increase physical strength!
 
[Multi-function digital LCD display]Easily track your progress through the multi-function LCD display. You can monitor time, speed, distance, heart rate, calories and ODOGRAPH to encourage you to take a fitness journey. The bottle rack under the seat allows you to supply water anytime and anywhere, saving you from pausing exciting exercises and getting out of the car from time to time to stay hydrated.
 
[Ideal for indoor health and fitness exercises] The transport wheel provides convenient movement and relocation. Simply tilt to roll and use or store, without heavy lifting or muscle strain. Try an exercise bike, it can provide you with amazing aerobic exercises and any other features that home fitness enthusiasts want.
 
[Compact design does not take up space] This bike will provide ultra-quiet exercise, and is also suitable for people who need baby care and mothers who want to restore their pre-pregnancy figure. With its compact design, it will take up a limited space. You can put it in the bedroom or any corner. It is suitable for people who are busy with work and don't have time to go to the g ym.
 
Product Details:
 
Foot pedal style: aluminum alloy pedal
 
With heart rate
 
Super soft seat
 
Gross weight: 55.1lbs
 
Net weight: 51.8lbs
 
Flywheel casting wheel: 13.2lbs
 
Maximum load: 265lbs
 
Packing size: 35.2x31.5x7.9 inch
 
Product size: 39.0(L) x 20.9(W) x 40.2-45.3(H) inch (the height is measured from the lowest to highest height of the handlebar)
 
Drive mechanism: belt drive
 
Resistance system: easily adjust the tension resistance knob
 
Digital monitor: Yes (upgraded multifunctional digital LCD monitor)
 
Adjustability: seat adjustment, handlebar adjustment
 
Products include:
 
1x spinning bike
 

1x English manual