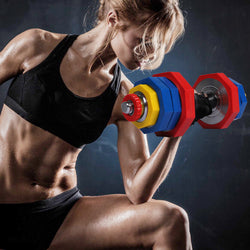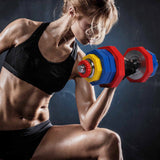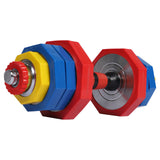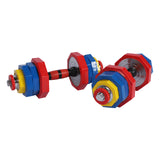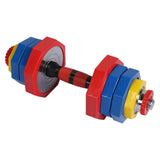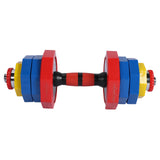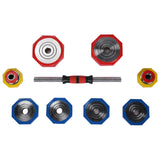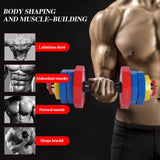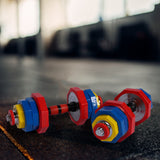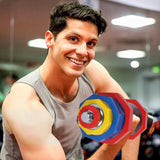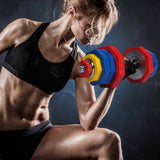 Adjustable Dumbbell 55lbs Fast Adjustment Function With Weight Plate 1 Pair
Adjustable Dumbbell 27.5lbs Fast Adjustment Function With Weight Plate 1 Pair
Description:
Suitable for whole body exercise: suitable for strength training, muscle regulation, core and balance training, home fitness and rehabilitation The perfect dumbbell for men and women of all ages.

Multifunctional: Dumbbells are ideal for any strength training, whether it is riding, collision or classic bench press, they are suitable for outdoor or home gym use.

Grip: The conical shape of the barbell bar, the 34 mm diameter handle and the knurling on the bar ensure a firm grip every time you exercise.

Dumbbell set: the best fitness accessory for weight setting to build your body muscles. Dumbbell exercises can burn calories. This weight loss exercise not only burns calories, but also improves muscle strength, muscle endurance and heart health.

Quick results: Dumbbells are ideal for a variety of exercises, including bicep curls and triceps extensions, which can be raised and pressed upwards, side, side and back, shoulders to form a strong er shoulder.

Training with dumbbells allows you to select resistance training exercises based on their similarity to actual movements that occurs during sports.

There are many weights to choose from, and the maximum weight of 16 counterweights can reach 55 pounds! ! !
Feature:
Product Name: Dumbbell

Dumbbell Category: Electroplating Dumbbells

Material: Solid steel

Applicable season: All seasons

Efficacy: Modify muscle lines to make the whole body muscle strong er!

Product feature: 16 counterweights.
Product List:
2x handles

8x blue counterweight

4x red counterweight
2x yellow counterweight

Remarks:
1. Due to differences in display and lighting effects, the actual color of the item may differ slightly from the color displayed on the image. Thank you!

2. Due to manual measurement, please allow measurement deviation of 1-3mm.